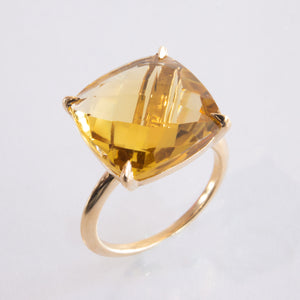 リング:
ゴールド(5K, 10K, 14K)
ストーン:
ハニークオーツ
ホワイトゴールド/イエローゴールドでのご用意が可能です。ベースの金属及びサイズとカラーをお選びください。こちらの商品は制作に2週間程度の期間を頂戴いたします。
その他記載以外のサイズのリクエストなど、ご希望の方は別途メールにてご連絡下さい。
Ring :
Gold (5K, 10K, 14K)
Stone:
Honey quartz
Weight:

10.5

 CT
Color:

Brown, Yellow

Gemstone Quality:
AA
Gemstone Quality Description:

Light to medium orangey yellow; eye clean; good cut; good polish

Stone Hardness:
7
Gem Species:
Quartz
mm Size:
14 x 14
This style is available in White and Yellow Gold. Please choose your preference.
If you prefer another kind of questions, please feel free to contact us.
SKU ###########